Coordinate supporting tourists
This Regulation prescribes the principles, contents and responsibilities for coordination among agencies, units and organizations in providing information and support for tourists in the province. The purpose of the regulation is to timely support information, resolve the necessary and legitimate requests of tourists in cases where assistance is needed, creating favorable conditions for visitors to easily access the information, consultancy selection of accommodation, products, services of tourism. Introduce to tourists with good quality services; Receive opinions of tourists about limitations in local tourism activities; It contributes to building tourism environment civilized, safe, friendly, bring satisfaction and comfort to customers when coming to Quy Nhon - Binh Dinh.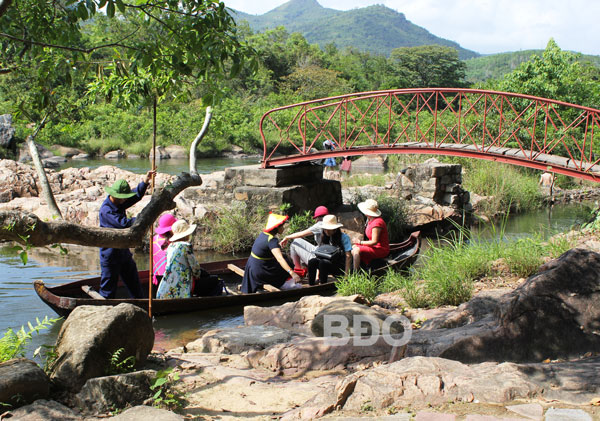 Tourists visit Ham Ho Tourist Area
The Regulation which confirms security and safety of visitors is the responsibility of relevant agencies, units, organizations and individuals, in which Tourism Department is the focal point for receiving information. Agencies, units and organizations, when receiving information from the focal point, must take initiative in settling matters under their responsibility and abide by the work process, ensuring the time schedule, no deny responsibility.
Arranging competent officials to promptly solve the cases and create conditions for the provision of information and support to tourists to ensure timely and proper subjects. The coordination between agencies must be agreed upon according to the functions, tasks and powers assigned; When handling and settling matters, the involved parties should coordinate with each other in exchanging, agreeing and strictly observing the provisions of law.
Implementation Efforts
Ms. Huynh Thi Kim Binh, Director of BTPI Center, said that: Recently, the Information and Support Tourists Center has coordinated to draft the content of the regulation on coordination to provide tourism information to PPC. Accordingly, PPC issued Official Letter No. 969 / QD-UBND dated 26.3.2018 to promulgate the Regulation on coordination; Facilitate departments, units concerned to coordinate more closely in the information and support tourists.
BTPI Center has completed setting of posters provides information of hotline numbers, receiving information to support information at restaurants, hotels, shopping centers, transportation facilities, train stations, public areas and typical tourists area in the province, contributing to building the brand of Quy Nhon - Binh Dinh with tourism environment in security, safety and friendly and professional.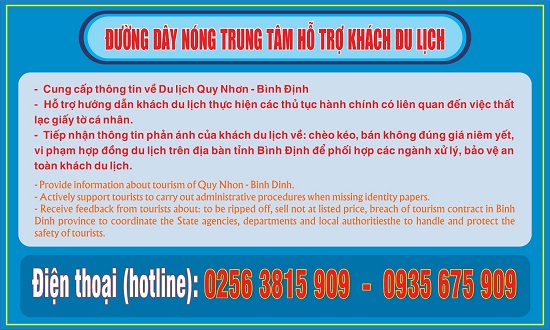 Information and Support Tourists Office provides tourists information such as finding tourists destinations, accommodation, standard restaurants; Receive feedback on travel, accommodation ..., and transfer to functional units to handle emergency cases such as accidents, property or life damage...
The Center also help tourists to easily access information on social media via the website, fanpage of BTPI Center. Consulting, introduction of products and tourism services with good quality and standard. Frequently contact directly to accommodation services, travel, restaurants, tourists destinations enterprises in the province to find out, update prices, tours, routes ... timely to provide information to tourists on request.