Night sea
Get a comfortable dress, walking on the smooth sandy to listen to the sound of wind, waves... Quy Nhon is the city of poetry is not false! Couples hold hand in hand, children played on the sand, lights of boats far away is another city on the sea. Especially, along from An Duong Vuong street to the end of Xuan Dieu street is decorated with many kinds of rocky shapes, following by the culture of Binh Dinh people that tourist must take a photo. After make a special album for myself, I have a cup of coffee in Surf Bar - a bar on the beach where tourists can have the nice sightseeing of Quy Nhon city. Listen to the sound of the sea, soft music, look at the moon, the stars in the sky... I forget tired, busy of working, feeling more lovely life.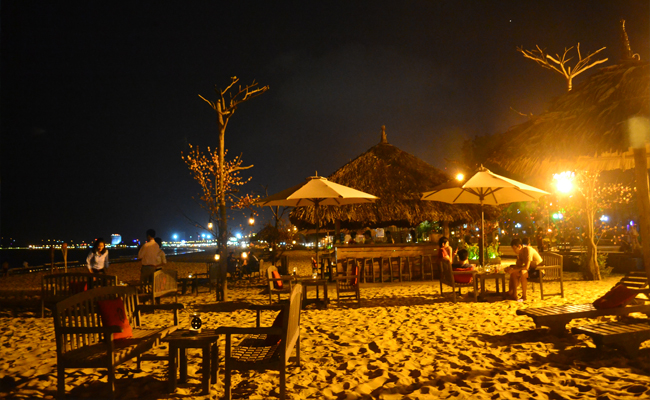 Diversity of attractive entertainments
The second day,after a whole day to historical- cultural sites of Binh Dinh, I keep going on walking to explore interesting things of Quy Nhon city at night. Compare to Sai Gon, Quy Nhon is so small, but what it owns, more attractive than its appearance. The city at night is so wonderful with many colors between busy life and peacfull ancient life. There are night market, Han Mac Tu Grave, Twin Towers- where tourists can rehearsal story of land and people of Quy Nhon city.
Coming to Quy Nhon, I have opportunity to explore the city by horse wagon in the beautiful street: An Duong Vuong - Nguyen Tat Thanh - Xuan Dieu, and hiring a bicycle to ride myself to many small streets of the city.
Quy Nhon is also famous with many nice coffee shop such as: Huong Viet, Xua va Nay (Ancient and Model), Green, Barbara's, Khanh My, Milano, Nau, Bookcafe, Cung dinh, Cuoi, Sky... to immerse into romatic nature.
Besides that, bars in Quy Nhon city are always jubilant, bustling by the parties of lights, music such as Royal Club. Nghe Si tearoom of singer Kieu Le at 288 Tran Hung Dao is ideal choice for those whom love Trinh's music with deep and soft melody.
Unique specilities
Walking around small city, tourists have many choices for your dinner such as: fermented pork of Huyen market, Song Than vermicelli, roasted fish with vermicelli, jumping shrimp pancakes and dishes from seafood like: shrimp, crab, fish, squid, shells... At Quy Nhon, night dinners are almost small, large streets . Tourists love all dishes from specilities in deluxe restaurants to small booths. Coming here, tourists must try seafood restaurants/ booths in Xuan Dieu, Vo Dinh Tu, Phan Chu Trinh, Nguyen Hoang street... BBQ in Hoang Quoc Viet, Le Duc Tho street; shells/ crabs/ shrimps in Huyen Tran Cong Chua, Tang Bat Ho street or Ngo May, Ngo Van So street to choose delicious dishes for yourself with low price.
Have you ever been in Quy Nhon city? Try once, you will delete your thought that " Quy Nhon at night is boring". End of 2 days 2 nights, I feel it's not enough time to visit all destinations in Quy Nhon- Binh Dinh. Of course, Quy Nhon make the good impressive in my heart because of small city, not busy, not blusting as many places as I came. Everthing here is enough to entertain, to enjoy, to feel and remember in memory.