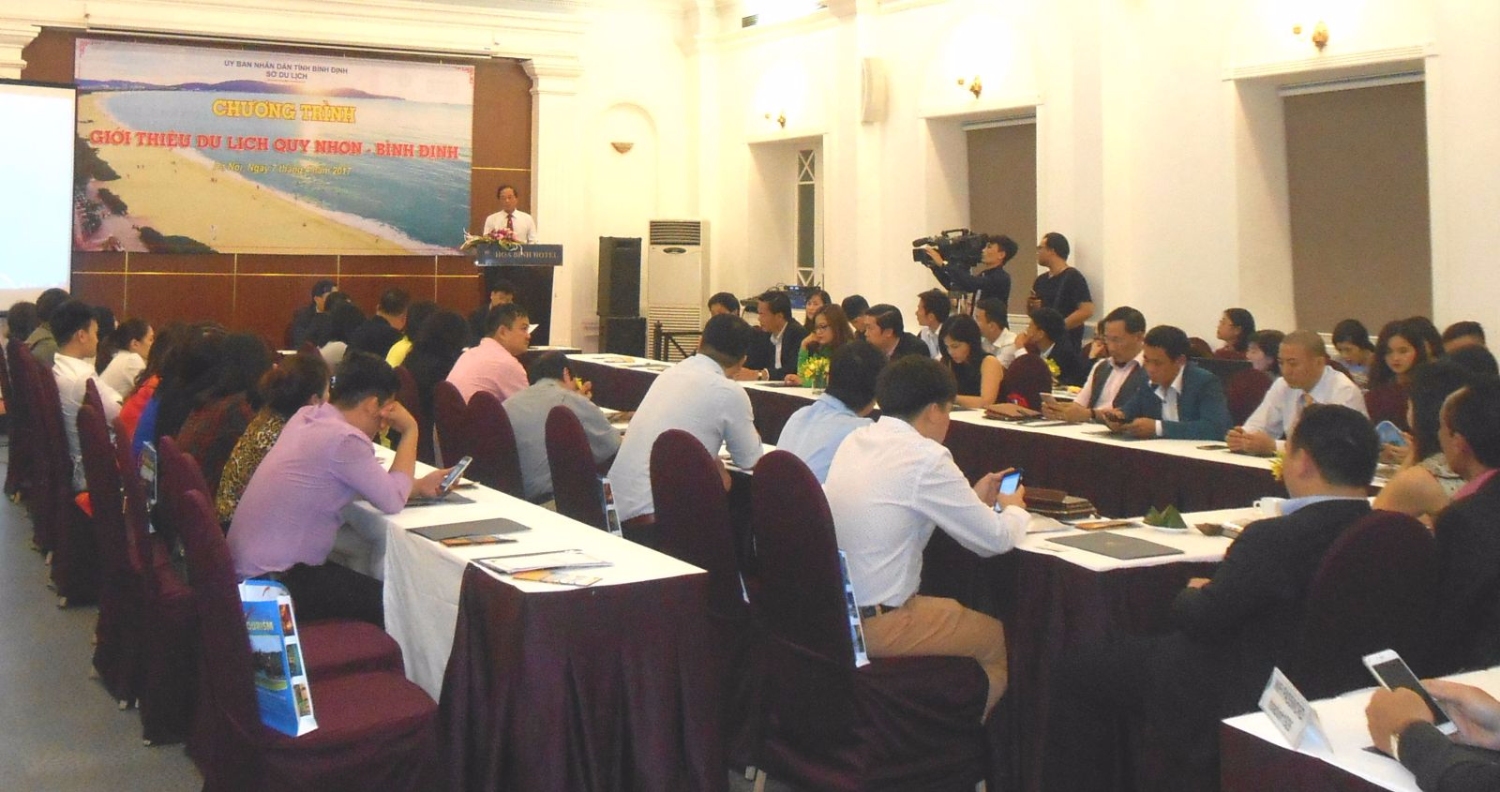 Leader of department of tourism answered comments of delegates
The program was attended by more than 150 delegates representing the leaders of the Travel Department, Tourism Market Department, Ha Noi Tourism Department, Vietnam Travel Association, Ha Noi Travel Association, Travel Association of provinces in the country… Among them, more than 120 delegates representing tourism businessed, travel clubs in Ha Noi, Da Nang, Phu Tho, Son La, Soc Trang, Khanh Hoa… and more than 30 reporters and journalists have joined and contributed many ideas for Binh Dinh tourism to reach tourists better, especially in Ha Noi market- one of two largest domestic tourism markets in the country.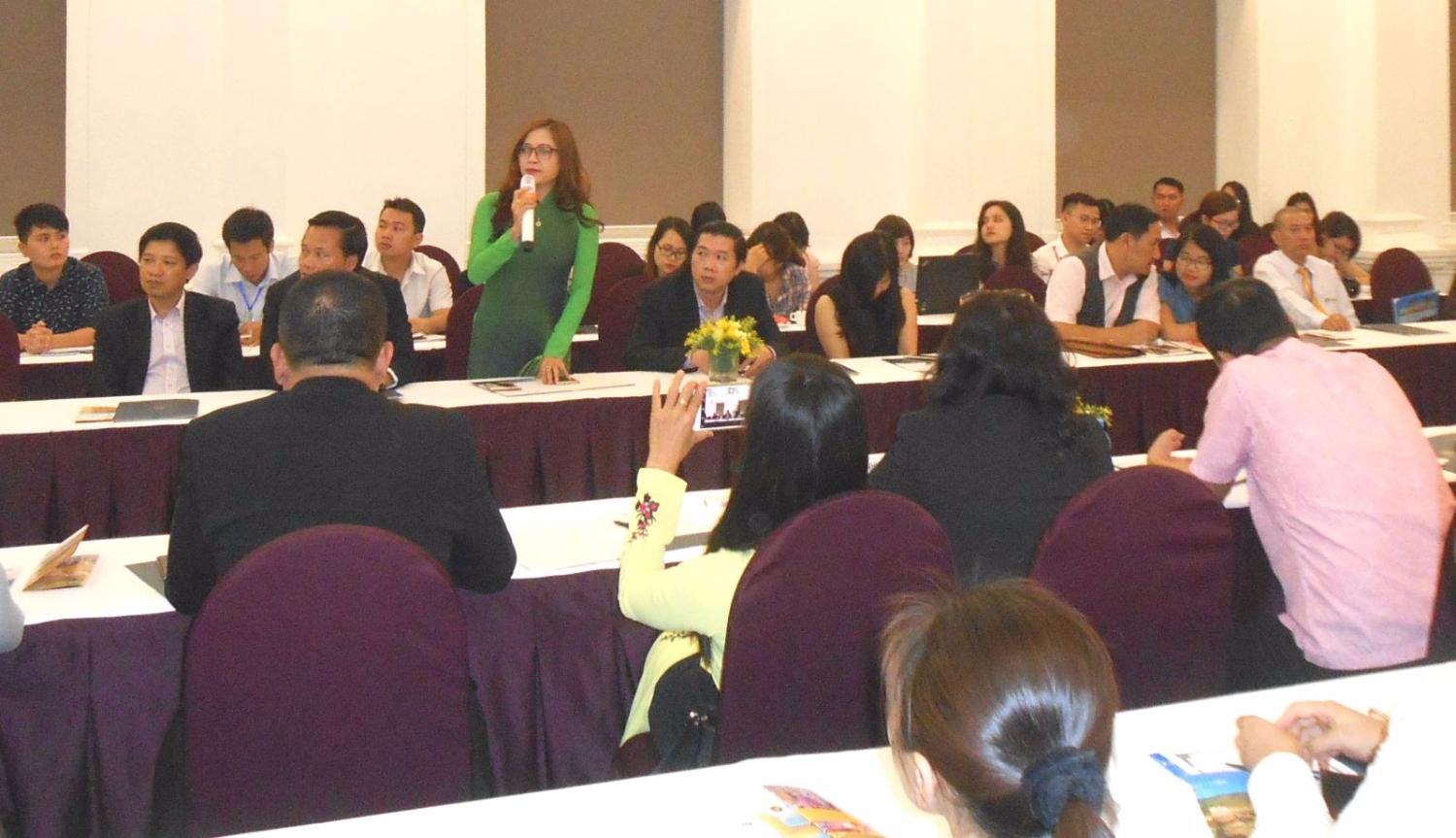 Ms. Trinh Thi My Nghe- Vice Deputy of Ha Noi Travel Association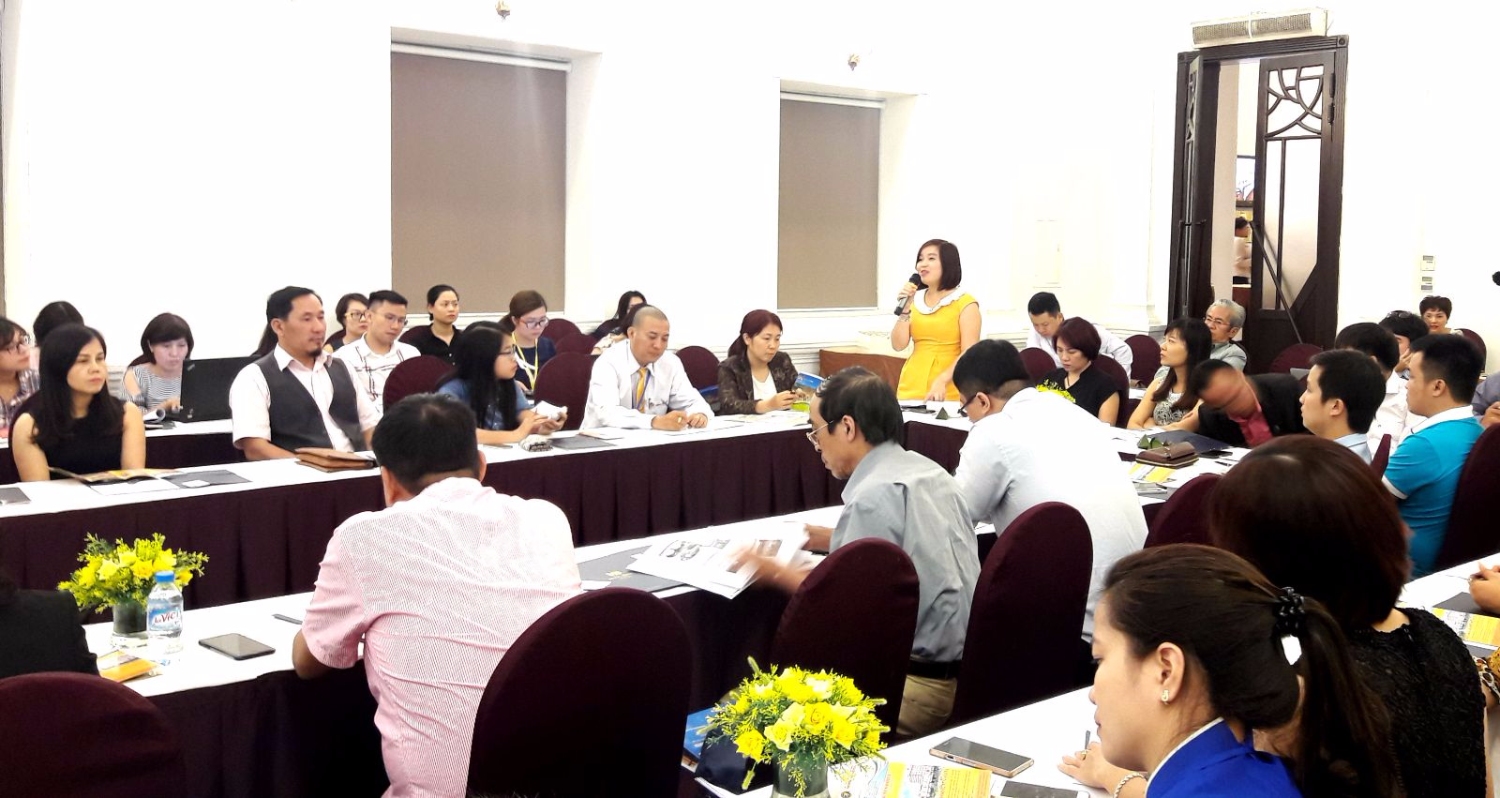 Representatives of travel companies contributed ideas about tourism of Quy Nhon- Binh Dinh
At the conference, travel and tourism companies participated in the discussion on issues related to destinations, products and services of Binh Dinh tourism, all the questions were answered by leader of tourism department with wishing to improve service quality and develop new products to satisfy tourists' needs.
Quy Nhon, the center of culture-economy- politic of Binh Dinh province has been blessed by nature with sunny beaches, blue chilling seas and famous landscapes such as: Quy Nhon beach, Dai beach, Xep beach, Quy Hoa, Hai Giang, Kho Island, Ghenh Rang… Coming here, tourists can admire Twin Towers- one of the most beautiful towers of Champa architecture in the center of city; walking along Xuan Dieu Street, the central square of Binh Dinh province and visiting Phuong Mai pennisula with rocky moutains system interwoven with sand dunes that stretch out to the sea. Located in center of Quy Nhon city, Quy Nhon beach is 5km from Mui Tan to Ghenh Rang. On the golden sand beach along the coast are dining services, relax. Especially, the beach is close to the street seafood cuisine on Xuan Dieu Street, tourists can swim and enjoy fresh seafood.
In addition, tourists also have opportunity to visit Ham Ho, Thi Nai Lagoon, and Thi Nai Bridge, Dai Kinh Thien, Quang Trung Museum, Tay Son Tam Kiet Temple, Emperor Palace, Nguyen Sinh Sac monument… Coming to Quy Nhon, tourists also have opportunity to experience traditional arts, folk festivas, traditional villages, Binh Dinh traditional martial arts and enjoy special cuisine. Especially, Quy Nhon FLC reosort with an area of 1300ha including villas and five stars hotel 1500 rooms, international convention center 1500 seats, golf course 36 holes, marine ecologiacal resort, wildlife park, spiritual… will be an attractive destination for visitors to Quy Nhon- Binh Dinh.
With an effort to develop tourism into an important economic sector of the province, Binh Dinh tourism industry always attaches importance to organizing programs promoting and advertising provincial tourism in potential tourism market.
Through the practical comments of the delegates, hopfully in the near future tourism of Quy Nhon- Binh Dinh will fly up, affirming the brand is a safe and friendly destination.