Strengthen Inspection work of tourism: Protection brand of Binh Dinh Touris
Although newly established in February, 2017, human resources and means are limited, but the Inspectorate of Tourism Department has made efforts to perform tasks, actively contribute to the state management of tourism, protection of prestige of Binh Dinh tourism brand.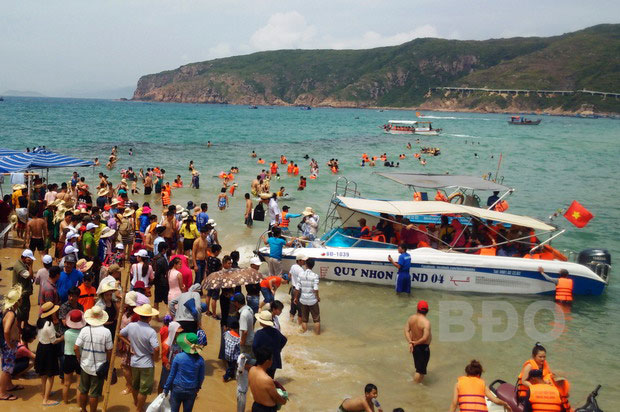 Effectively
According to Mr. Nguyen Van Dung - Director of Tourism Department, in 2017, Tourism Department has lead Inspectorate Division to organize the inspection and examination according to the timely and lawful plan. At the Spring Festival 2017, the Summer Festival 2017, the Department has coordinated the protection, security, not to occur theft, overlap tourists as well as issues of safe food hygiene, fire prevention…
The Inspectorate of Tourism Department has coordinated with related departments to inspect the observance of legal regulations in business activities; Examining the activities of tour guides at tourist areas in the province. Specifically, 10 inspections were carried out at 115 establishments doing business in tourism; check 41 tour guides to ensure the tour guides practice criteria according to regulations and procedures lead the delegation to visit; inspecting 10 tour operators and 5 tourist areas, picnic area, 4 food businesses; Working directly with 5 localities: Ghenh Rang Ward; Nhon Ly commune; Nhon Hai commune (Quy Nhon city); Cat Tien district and Tay Son district on the observance of the law: publicly listing services prices, protecting the environment, adjusting the status of persuaing tourists. currently 17 cases of infringe, which prompted 4 cases, sanctioned 13 cases.
At the same time, the Inspectorate of Departments of Tourism has coordinated with the Traffic Inspectorate and other related agencies to inspect the conditions of activities of organizations and individuals providing services of transporting inland waterways. The Inspecting the implementation of the law provisions for a number of projects being implemented.
Strengthen Inspection Work in Tourism activities
In the coming time, Inspectorate of Tourism Department will develop plans of inspecting and examining the observance of the law provisions on travel business, tour guides activities, resident business activities, restaurants , standard shopping facilities for tourists and activities of tourists destination in the province.

Source: Nguyen Vu- Binh Dinh Newspaper: