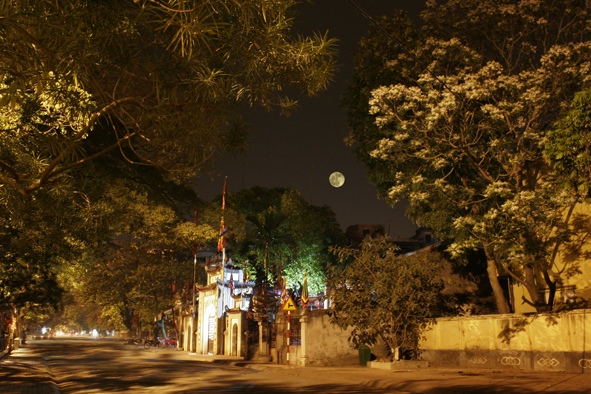 From 6th to 8th of March (lunar calender) yearly, the cultural festival of Pho Hien is a bif festival of Hung Yen province which hold in the ancient cultural space at relics Mau temple (Mother's Temple), Tran Temple, Hien pagoda, Thien Hau temple, Chuong pagoda, Van Mieu... with participants of 12 communes, wards of Hung Yen city.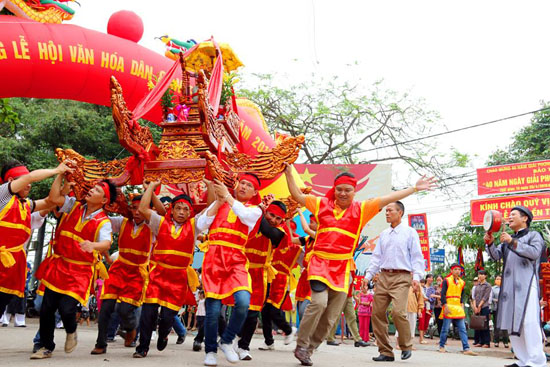 During the festival, ceremonies are held solemnly as incense offering ceremony, peace worshipping ceremony, carrying palanquins ceremony... in order to restore and promote traditional historical, cultural values and regionuos activities at temples, pagodas... The most especial is carrying palanquins with thousands of participants, lasting 2km, carrying through main streets and temples, pagodas in the city. Rituals show faith, respect and worship to the Gods, Buddhas, fairies, national heroes who have created and blessed happy lives for present and future generations.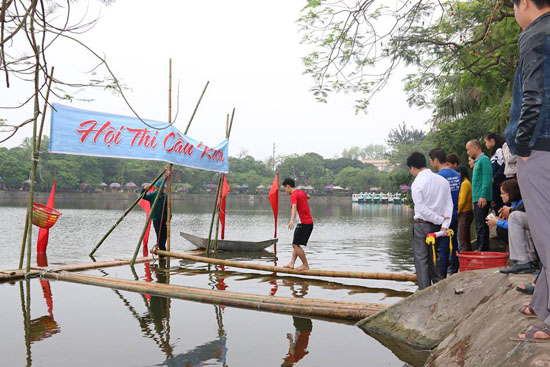 Contest: Going on Kieu bridge on the Crescent Lake
The folk games are also exciting, attracting many people and tourists to participate in: boat race on the Crescent lake, going on Kieu Vridge, tug, cocl fighting... These games are preserved through generations by people in Pho Hien, which partly portrays the live of busy Pho Hien in the past. In addition, in the festival also organized activities: ca tru singing, trong quan (drum battle), playing kite with flute contest, display, introduce specialities of Pho Hien; introduce antiques... Immerse in festival atmosphere, tourists will learn more national tradition, arouse the pride of national self- esteem; exploring unique features of traditional cuisine, art and special folk games of the land " Little Trang An" in the past. This is also the occasion for Hung Yen to promote its potential, promote the development ofntourism, services associated with historical relics, festivals... to continuosly contribute to preserve and promote an advantage Vietnamese culture, deeply imbued ethnic indentities.
Tourists come to cultural festival of PhoHien to be guided to the highest, the most important values of life, to commemorate the work of predecessors; to impart to our children and grandchildren the noble aspirations of life. Not only that, tourist also enjoy and learn about the valuable historical relics, that is Van Mieu Xich Dang- the place to honor studying tradition of Hung Yen people in the past and now; Chuong pagoda- known as "first scene of Pho Hien", the ancient pagoda with unique architecture, valuable ancient statues; Mau Temple- spiritual tample; near Crescent Lake, there is an old tree Da- Sanh- Si is more than 700 years old, they blossomed together to form a solid tripod; Thien Hau Temple, Dong Do Quang Hoi, Vo Mieu that bring deeply Chinese color and architecture.
Pho Hien festival is also the season of logan flowers, tourists will enjoy the pure aroma that charm of logan flowers, enjoying a cup of honey tea and countryside gifts: Thang noodle, lotus and logan tea, rang bua cakes...