The project FLC Quynhon Beach Resort & Golf Resort has an area of 1,300 hectares, total investment of 7,000 billions. The project includes resort villas and hotel five-stars standard with 1,500-rooms, the international convention center 1,500-seats, 36-hole golf course, golf academy, marine eco-park, wildlife park , Spiritual area and many other utilities.
On July 30th, 2016, FLC Group officially launched Quynhon FLC Ecotourism Resort. After nearly eight months of efforts to complete and improve the quality of services, Vietnam National Administration of Tourism, Ministry of Culture, Sports and Tourism awarded the Decision of recognition of 5 stars standard for this resort. .
On this occasion, FLC Group introduced the FLC Lux City Quy Nhon and opened the FLC Zoo - Safari Park.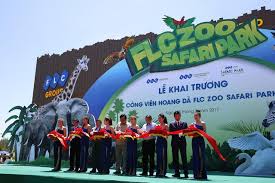 Cut the ribbon opening the zoo
Located in the heart of FLC Quy Nhon, FLC Lux City Quy Nhon is planned to become the most exciting and vibrant cultural tourism complex in Central Vietnam with a combination of attractive destinations such as ocean park with art stone sculpture, food street - entertainment - 24/7 shopping that brings the direction of Asia's premier shopping malls. The hospital-school-cinema-park system will bring a quality life to the residents of more than 1,000 villas and townhouses in FLC Lux City Quy Nhon.
Opposite to FLC Lux City is the FLC Zoo - Safari Park, which covers an area of 38.5 hectares. It is home of more than 1000 animals (at the opening, there are 35 species, more than 800 individuals). The FLC Zoo-Safari Park is semi-wild with precious and rare animals that are cared for and preserved in close proximity to the natural environment in order to conserve rare and precious gene.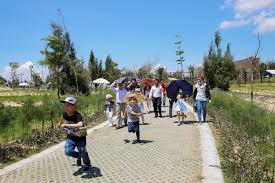 Visitors visit FLC Zoo - Safari Park
At the same time, towards to the natural interaction between humans and animals, bring unique experiences to visitors.
The zoo has finished the first stage and ready to open to visitors from March 26th 2017.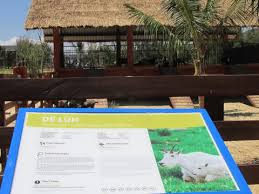 e zooAnimals in th
Mr. Le Thanh Vinh- General Director of FLC Group received 5 stars certificate from Mr Nguyen Van Tuan - General Director of Vietnam National Administration of Tourism (VNAT)