Eels are availble in many places like estuaries, brakish lagoons, and shrimp ponds along the central coast and in Binh Dinh. Eels belong to eel fammily, but in larger size with some eels weigh several kilograms. Especially, black eels which are only found in Tra O lagoon, also be called Chau Truc lagoon in Phu My district, because its black skin like ebony wood, it is famous for being scented and delicious with high nutrious value.
Local people recalled that there was a Chinese man in Quy Nhon bought black eel to hung up, using rice flour to stroke viscous liquid. The rice flour with black eel's viscous liquid used to make soup is the best. Therefore, no one buy a clear viscous eel. The fist value of eel is viscous liquid. Besides that, meat of eel can be simmered, fried, boiled and cooked soup but the most attractive is grilled and stemed. Black eel has been presented before 1975 in Chinatown's restaurant in Sai Gon and other countries in the region.
Besides following processing, the local people aslo make eel wine by put a black eel into a wine jar for more 2 months, drink eel wine to treat kidney disease and back pain.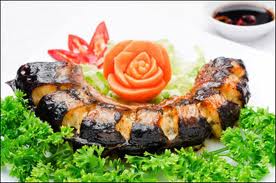 An art researcher who has lived in many countries said that: Chau Truc black eel can be compared to Lang Son Huong fish and Tay Ho carp (China) which are rare things that have been "certify" in list of aristocratic cuisine. He also said that his family was rich in Binh Dinh but just on death anniversary could only buy a piece of a black eel. That piece is center of solemnly tray of meal!