In the natural beauty of Thi Nai lagoon- Phuong Mai peninsula is Quy Nhon- Nhon Hoi road with over 7km total length including 5 short bridges and Thi Nai bridge. Of which, Thi Nai bridge is 2.477,3 m long- the longest cross sea bridge of Viet Nam now with 54 spans connecting Quy Nhon city and Nhon Hoi economic zone. Located about 3km southeast of Quy Nhon city, Thi Nai Bridge is not only the pride of authorities and Binh Dinh people, but also an attractive destination for tourists coming to Quy Nhon city.
Tourists explore Thi Nai Bridge by canoe- photo: Ngoc Thach
It is known that in the resistance war against France, the entire Thi Nai area was a wilderness; two sides were mangrove, no body here. In order to come to Phuong Mai peninsula or vice versa must go by boat. For those who are unfamiliar with waves are easily seasick because of big waves and wind as being middle of the vast ocean. Going by boat is very dangerous, not to mention the time is not short, despite of some kilometres from two sides, weariness and wasting time that everyone in Nhon Ly- Nhon Hoi people have experienced. But now it takes only "7 minutes by motorbike", Nhon Ly hometown and Quy Nhon city is closer now. The most valuable element is time, so economic value of Thi Nai Bridge is how great. If there was no Thi Nai bridge, many Vietnamese and foreigners would never known "sleeping fairy" Nhon Ly Beach- Nhon Hoi, and potential and realistic prospects of Nhon Hoi economic zone was known.
Since Thi Nai Bridge completed, not only Nhon Hoi economic zone brings economic benefits for Binh Dinh, but also Cutural and historical layers of this land enrich for Binh Dinh- the rich of cultural land and people. With "7 minutes across Thi Nai Bridge" and the journey back to thounsands years of the past, tourists will know why 600 years ago, Trinh Hoa- maritime in Minh Dynasty (China) sailed to Thi Nai on the discovery journey to the new land. And before Trinh Hoa, the Arab merchants who had visited here for trading, Odorio de Pordeneno, Macco Polo came here and witnessed the prosperity of the Champa inhabitants and bustling exchange activities at Thi Nai port.
Standing on the bridge, tourists can overview to fishing boat on the sea, enjoying fresh air and creating art. Especially, Thi Nai Bridge is one of the most beautiful places to see sunrise and sunset in Binh Dinh.
Under the bridge of "21st century" is Thi Nai Lagoon. Thi Nai is the biggest lagoon in Binh Dinh with shape of stomach, more than 10 km long and 4km wide with many famous sea specialities. In the lagoon, near the west bank has a small moutain- there is a small shrine built by fishmen to worpship seagod- moutainous shape like an ancient tower, called Thay Boi shrine (Fortune teller shrine), that makes the lagoon landscape is more lively and attractive. Everymorning, full moon night, the lagoon is in the green mangrove, the surface is fuzzy, fanciful as fairyland.
The sunset of Thi Nai Lagoon, photo: Phuc Sang
Currently, Binh Dinh tourism is constantly developing, rising strongly. Coming to Binh Dinh, tourist can visit many places with many landscapes, historical relics such as: Quang Trung Museum, God Worshipping Palace, Ham Ho, Cham towers population, Con Chim, Cu Lao Xanh, Dry Island, Phuong Mai sand hill… and Thi Nai Bridge is one of important highlight of Binh Dinh tourism.
On November 22nd 2014, Thi Nai Bridge was honorly ranked top 10 famous bridges which tourists love to take photos by Viet Nam record organization- that is a statement of value and beauty of Thi Nai Bridge.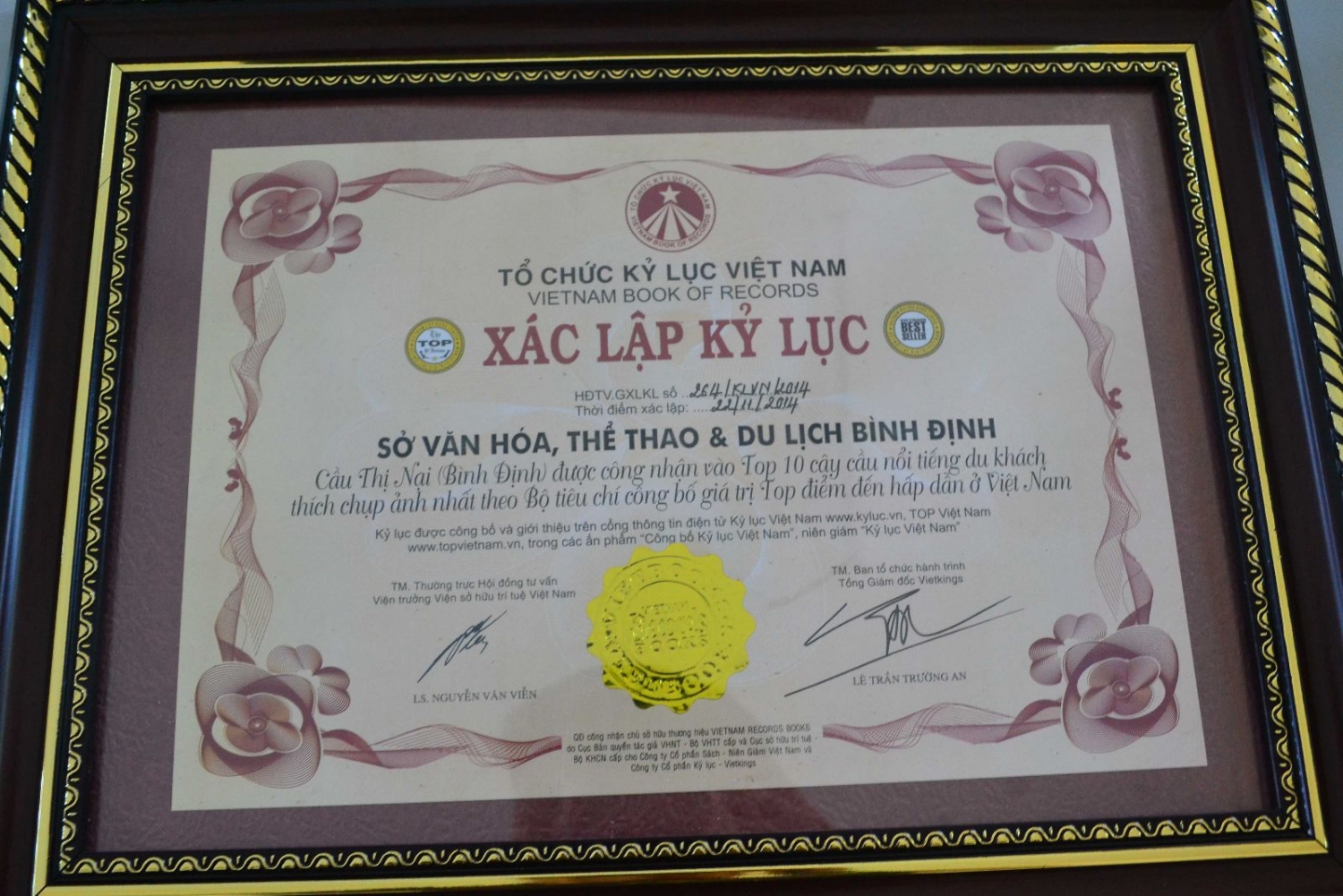 Thi Nai Bridge was set record by Viet Nam record organization- photo: Ngoc Thach
Thi Nai Bridge not only helps for Binh Dinh economy in general and Binh Dinh tourism in particular to "reach to the future" but also the opportunities to attract tourists come to explore secrets of this land- The land of "spirituality masterpiece. The task of the bridge is traffic, exploring and conquering. Tourists have opporunity to visit Quy Nhon- Binh Dinh, once coming to the longest cross sea bridge to explore.